The 19-year-old Hsieh, went through a tense competition with 1st runner-up Michael Frazi of Australia on his way to his debut-tournament win after trying for two-years. Both scores were close until the 9th-frame when Hsieh struck a turkey while Frazi only spared home a 216-186 step-ladder match.
Hsieh, who bowls full-time because of his study-program at the Taiwan Sports Academy, also has a father-coach who operates a centre in downtown Taipei and will surely be a name to remember in the year's to come.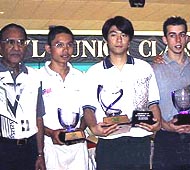 Winners of the junior classic
Pictures: bowlingasia.com
Hsieh topped the semifinals with a score of 2,080 pinfalls from Michael Frazi of Australia on 2,010 while Malaysia's Mazri Effendi, who was the 1st runner in the Malaysian National championship last month, finished third with 2,009 pinfalls. Fourth was W. Anattawin of Thailand with 2,003 with Singapore's Lim Zhong wrapping up the top 5 with 1,999 pinfalls.

Semifinals Scores
Pos  Bowler                Ctry  Score   Ave.
 1   Hsieh Ping Yen        TPE   2,080  208.0 
 2   Michael Frazi         AUS   2,010  201.0 
 3   Mazri Effendi         MAL   2,009  200.9 
 4   W L Anattawin         THA   2,003  200.3 
 5   Lim Zhong             SIN   1,999  199.9 
 6   L A Yannaphon         THA   1,984  198.4 
 7   Chew Faizal Adam      SIN   1,979  197.9 
 8   Valerie Teo           SIN   1,976  197.6 
 9   H Werachai            THA   1,976  197.6 
10   Ivan Koh              SIN   1,964  196.4 
11   Cheng Chao Sheng      TPE   1,960  196.0 
12   Brendan Heathwood     AUS   1,947  194.7 
13   Jarrod Lean           AUS   1,918  191.8 
14   Cheryl Soon           SIN   1,901  190.1 
15   Marc De Vries         SIN   1,897  189.7 
16   Cheng Pi-Tang         TPE   1,869  186.9 
17   Pang Freddy           SIN   1,865  186.5 
18   Roger Sim             SIN   1,808  180.8 
19   Benjamin Lim          SIN   1,774  177.4 
20   Shaun Ng              SIN   1,724  172.4